WOAH, WOAH, WOAH, WOAH, WOAH, WOAH, WOAH, WOAH
What is urban sketching, exactly?
Urban sketching is a fantastic and creative style of art that is suitable for artists of all levels of experience. Seriously. It's one of the most pleasant ways to record your surroundings.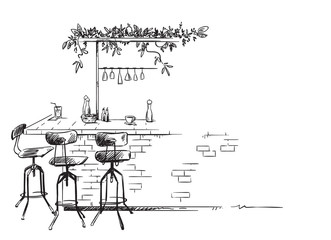 It's also a fantastic method to make new friends! In the last ten years, the urban sketching community has exploded in popularity, with sketch crawls taking place all over the world (like bar crawls, but with art!). Even if you're not a natural artist, this is a hobby I strongly encourage you to try.
GoSocial lets you grab this opportunity to interact with many artists who are into urban sketching and love making urban sketches. If you are someone looking to attend/host workshops on urban sketching or join communities, GoSocial is for you.
Whether you are a beginner or a pro at urban sketching, this guide is for everyone. In today's blog, I'll talk to you about urban sketching, a little about urban sketchers (so that you can connect to many like-minded people :)), some tips and tricks, and much more.
So, without any further delay, let's dive into the world of art!
Now build your creator website and mobile app in under 5 minutes on GoSocial without coding. Click to start for free.
What is Urban Sketching?
Drawing our life tales appears to be a ubiquitous aspect of human nature, dating back to primordial cavemen. When we talk about urban sketching at Artists Network, we don't focus on anything city-centric. Instead, we use urban sketching as a creative and enjoyable hobby — a method to record the people, places, and things that surround us — in our sketchbooks.
You may urban sketch in your car, your backyard, on a mountainside, amid the hustle and bustle of a city, and even in a shopping mall. You can also use whatever art supplies you like, and your sketchbook can be any shape or size.
Read our blog on How Painting can Positively affect your Mental Heath
Making drawing a regular part of your life, so that your creativity and art-making become woven into everything you do, is what urban sketching is all about. When you flip through the pages of your notebook, you can see all of your discoveries, recollections, creative moments, and artistic excursions in one spot. It's more like A journal of your artistic journey.
Urban sketching as a practice existed long before the phrase or label "urban sketching" was coined. Sketching on site is essentially what urban sketching entails.
Urban sketching is the activity of sketching from life on location rather than drawing from reference material such as images inside a studio or house.
Urban sketches usually focus on building or street settings, but they can also feature individuals in cafés, on their everyday commutes, and anything else! Urban sketching can be done from life and outside of a studio setting as long as the sketch is done from life.
The act of narrating a story with the sketch may be the subtle ingredient that distinguishes urban sketching from the decades (or centuries)-old practice of sketching on site.
The 'Urban Sketchers Organization' is a global group of artists that draw on the go. They draw what they observe and are committed to promoting on-location sketching as a visual storytelling and reporting tool.
What is the best place to sketch in the city?
Because urban sketching is such a terrific way to meet new people, you'll most likely find urban sketcher groups in your hometown, if not all large cities, and more are sprouting every day. There are free sketching expeditions, scheduled weekend courses, and sketching conventions and symposia where you can meet other sketches.
You can also join an online group of urban sketchers. Sketchers from all over the world share their work and cover every possible subject in social media groups that come together on various platforms.
Looking for inspiration for your next sketching adventure? Starting with a museum is a good place to start. You'll find a wide range of intriguing and well-presented topics. Make sure to pack light because most museums only allow you to stand — and most only allow you to write with a pen and ink.
Read Also: A Comprehensive Guide to Get Started with 3D Sketching 
What Are the Benefits of Becoming an Urban Sketcher?
What could be better than capturing a moment in a sketch to make you feel even more present in it? Certainly not a quick selfie or photo and then moving on. You get to tell a tale at the moment through urban sketching from life, and you get to record your distinct aesthetic impression.
Give it a shot. You may create a sense of freshness and directness that can't be duplicated in any other way.
Art Supplies You'll need for Urban Sketching
1. Pencil
I recommend a mechanical pencil because you won't have to constantly sharpen it.
2. Pen
I recommend a fineliner, which comes in a variety of line thicknesses. They have permanent waterproof ink and generate a consistent line. I suggest a set of Uni Pins (available on Amazon) or a set of Sigma Micron pens (from Amazon here).
3. Watercolors
These are optional; you may like to do ink sketches instead. Watercolor paints, on the other hand, are fantastic for adding color because they're portable and can yield beautiful effects. There is a learning curve, but once you get the hang of it, the results are fantastic. Check out our blog here for more information on watercolor.
For Watercolor Supplies, read our blog on Cheap Watercolor Art Supplies - Everything Under 1000 Bucks
4. Sketchbook
If you're going to use watercolor paint, you'll need a sketchbook with watercolor paper. I recommend you to read our blog on Dos & Don'ts of Watercolor. If you're using ink, any paper will suffice.
5. Brushes
You'll need brushes if you're going to use watercolor. Starting with a water brush, such as this one from Pentel on Amazon, is highly recommended.
6. Eraser
7. Paper towels (if using watercolor paint)
Urban Sketching Techniques and Tricks
While urban sketching, there are several tactics to keep in mind. Although it helps to be able to draw to some level, you don't need to if the results are satisfactory. These are your own sketches that you've made to document your own life. Who cares if the person you sketched doesn't look like a person?
It can be beneficial to have a solid foundation in some of the fundamentals of drawing. I've included some links to several guides I've written to assist you with this. These guides were created to assist you to have a better understanding of some of these concepts in a week.
1. Composition of Thumbnails
When you're on-site, the first thing you should do is figure out your composition. Make a few quick sketches of the broad forms, decide on a focal point, and you're ready to start filling in the details. You could find that simply dividing your drawing into thirds helps the whole thing fall into place!
2. Accurate Proportions Measuring
It's critical to check that your drawing's proportions are correct. And you'll need to think like an architect to execute it successfully. Fortunately, there's a creative approach you can do to make this easier (all you need is a pen!).
3. Surface Texture:
Consider all of the wonderful masonry, elegant glass, and gritty concrete that may be found in an urban area. To bring these details to life, practise using your pen and paint. (When adding texture to your piece, work from lighter to darker sections and from large to small gaps.)
A Suggested Read: Miniature Watercolor Painting - Things You'll Need Before Starting
4. Vignettes are short stories.
Quick and lose vignettes are an excellent approach to practise urban sketching since they require you to capture the environment around you in pen and ink rapidly. The key is to not overthink it: grab a notepad, discover some interesting angles and perspectives, and start sketching out the scene.
5. Incorporating Watercolor:
You'll keep the same rapid and loose urban sketching vibe when adding watercolor. Fill your brush with water, leave some white space, and don't be afraid to colour outside the lines and push the boundaries (literally).
6. Selecting Locations & Subjects
If you're just starting out, you might want to choose a calm and private place. Try drawing the scenery across the street while sitting outside your house. You can still have the experience of setting up your sketch even if the view isn't great (I used to live across a vast dirt lot). It's a good idea to frame your scene first and figure out what you'll draw for the far right, far left, top, and bottom of your view.
A Must-Read: Sketching Basics - A Beginners Guide to Sketching
Once you've become used to these settings, go exploring around other parts of town. You can determine what you actually want to focus on when you sketch these scenes. Do you like the church's design? Or perhaps you enjoy the diversity of individuals you encounter at a festival? Spend more time drawing those as the focal point of your drawing, whatever it is. Don't have much of a focus and want to draw the entire scene? That's something you can do as well!
To get you started, here are a few ideas:
Saturday farmer's market
Local events/festivals
Store
Museums
Schools
Parks
Hospital
Restaurants/Cafes
Gardens
Beach
Church
Examining Different Urban Sketching Techniques:
Examine the various styles and try to figure out what the artist is up to. Do they make use of thick black lines? What are the colors that they use? Have they realistically drawn a scene or have they interpreted it differently? What do you think of the sketch? Which style piques your interest the most? Can you identify and work with some of the aspects of the style you like in your own sketch?
It's crucial to recognise that you can imitate someone's sketch for practice or to try to figure out what they're doing. This is a handy and effective learning method. What you should not do is share this sketch with others on the premise that is your own work.
Now build your creator website and mobile app in under 5 minutes on GoSocial without coding. Click to start for free.
And that's a wrap,
This brings us to an end to our urban sketching blog. Hope you guys enjoyed it.
And before we end this, let me tell you about our community-building platform – GoSocial. At GoSocial you can host your own workshops, join communities of your interests and interact with hundreds of creators like you. So, what are you waiting for? Click here to visit GoSocial.