Resin art is a fun and creative medium to experiment with. Innovative epoxy resin art ideas can aid you in creating magnificent constructions that are both functional and aesthetically pleasing.
It is considered a high-level painting for the new generation of artists. Traditional artists and resin artists are distinguished by the particular supplies needed to create resin art.
So, let your imagination run wild and dive headfirst into the brand-new realm of resin art and resin art ideas, where the possibilities are endless.
Now build your creator website and mobile app in under 5 minutes on GoSocial without coding. Click to start for free.
This Epoxy Resin Art Ideas guide can help you explore your creative side, whether you're a beginner or a seasoned artist. Not only that, but it will also assist you with fantastic resin art ideas tips.
But before we go into Epoxy Resin art ideas, let's first get a better knowledge of resin art.
A Little About Resin Art
Resin art (sometimes known as plastic art) is a type of art that is made from a synthetic plastic. It's a type of sculpture that usually takes the form of an item rather than a flat surface (A wooden mold or a silicone mold).
The majority of resin artwork is made by sculpting a clay/resin mold. The mold is made of a "harder" resin that may be molded into a shape using a resin casting procedure.
Although most resins are made from petroleum, certain resins are made synthetically. Varied resins have different strengths and weaknesses, and some have unique qualities that make them more suitable for specific applications.
Also read: All About Epoxy Resin Art
You can make works of art that amaze with their clarity, luminosity, brilliance, and depth using resin art. Color pigments or other additives can be mixed into the epoxy resin to produce resin paintings or resin casts and a lot of other resin art ideas – the possibilities are unlimited!
Various resin art ideas can be achieved by varying the painting ground, casting type, colors, and additives. Even the most accomplished resin artists never stop learning.
Before we go ahead, have you heard about this buzz talk that's happening everywhere about this community building platform called GoSocial? No? Then what are you waiting for? Click here or visit GoSocial.
Epoxy Resin Art Ideas For Beginners
Epoxy resins are made up of two components: resin and hardener. A chemical process occurs when the two components are mixed, resulting in the liquid resin progressively hardening to a solid plastic within hours.
The end product is a transparent, high-gloss surface. For simplicity, I might prefer to use "resin art" rather than "epoxy resin art."
Resin is used in art as well as in business and boat building. Kitchen counters, floors, tables, paintings, jewelry, and sculptures can all be cast with resin.
A must read: 10 Things to know before getting started with Resin
Resin can also be used to generate a shine and preserve drawings, pictures, and paintings (made of oil, acrylic, alcohol ink, watercolor, ink, mixed media, and so on) from UV radiation and mechanical forces. Epoxy resin can also be used on wood, and it can be used to make an epoxy river table or geode art. And guess what? These are just a few of the resin art ideas. You can create whatever you like and however, you like with resin art.
Since New Year is around the corner, here are the top 3 resin art ideas that you can use to decorate your home or even for gifting purposes. So, get set and dive in!
1. Epoxy Resin Art Jewelry:
This epoxy resin art idea allows jewelry enthusiasts to quickly produce exquisite one-of-a-kind items. Because of the adaptability of synthetic resin, there are virtually no restrictions to design ingenuity. With little included features such as flowers, pearls, or glitter particles, the crystal transparent material becomes a real eye-catcher.
Because the raw materials might be harmful, making resin jewelry takes some time and care. You can be pretty creative with your resin art ideas once you've learned the basics of resin jewelry manufacturing and how to use resin.
Clay-resin can be used to produce the jewelry. When making jewelry, clay resin is frequently combined with acrylic resin. Make sure the two resins are mixed in a 1:1 ratio. Clay is a highly delicate substance.
Here's how you can make your resin art jewelry:
Step 1: Make the following preparations before manufacturing resin jewelry:
The first step is to select an appropriate silicone mold once you've determined the resin art jewelry or item you want to produce. Then you should at the very least make an educated guess as to how much resin you'll need to fill the mold.
Mix about half of the calculated value into the paint and color it in if necessary. The resin can then be poured into the mold. Use this epoxy calculator if you're not sure how much resin you'll need.
Step 2: Fill the Silicone Mold with Epoxy Resin:
Small, light elements are inserted into the still liquid resin. After that, you should let the resin dry for at least 24 hours (or as long as the manufacturer recommends on the packaging).
You can place larger, heavier parts on the first layer of cast resin after it has hardened if you wish to include them in your work. Fix the objects with resin to keep them from slipping during the casting process.
Also read: Resin Art Supplies for Beginners
The rest of the silicone mold can be filled with resin after the big pieces have been securely secured. Now it's time to let everything dry thoroughly. The duration of the curing procedure is specified in the manufacturer's instructions.
Tip: Unwanted air pockets in the resin can be destroyed by swiveling a hot air blog dryer (also known as a hot air gun) or a Bunsen Burner over the substance for a few seconds.
Step 3: Taking Resin Jewelry Out of the Mold:
The time it takes for the casting resin to cure varies from one manufacturer to the next. On the box, you'll discover information. The workpiece is usually cured enough to be removed from the mold after about 48 hours. When removing the casing, be careful not to harm yourself on any sharp edges on the bottom.
Step 4: Epoxy Resin Jewelry Finishing Touches:
Sharp edges can be easily removed with fine-grained sandpaper if they formed during the curing process. A soft cloth and polishing paste are used to give the piece of jewelry a brilliant sheen. If a traditional silicone mold was utilized during production, this is frequently missing.
To obtain the radiant impression, crystal clear resins or glossy lacquers can be used as a finish. However, if you utilize a polished silicone mold directly, you can avoid this additional step. The smooth inner surface ensures that the surface of your epoxy resin art jewelry is beforeperfect and even.
NOTE:
Resin-embedded flowers may turn yellow, lose their color, and wither:
If flowers are not properly handled before being embedded in resin, they will fade, turn brown, or yellow over time. It is best to dry the flowers first and then treat them with UV lacquer to keep them looking fresh. You can also paint the flowers with the same color paint to keep them looking new.
The only way to retain the shape and color of flowers embedded in resin jewelry is to follow the proper techniques.
2. Resin Wood Lamp:
My Instagram timeline inspired me to make this epoxy resin art idea. Resin wood lamps are highly attractive and can be used to beautify any room. Desk lamps, wall lamps, and decorative lamps made of Resin are a few resin art ideas you can try your hands on.
Here's a small tutorial (step by step) that can help you make your own aesthetic resin art wood lamp:
Step 1: Get prepared:
Our work does not begin in the office. Let's have a look at what occurs prior to that: You must go to the forest or another location where old oak stumps can be found. If this is not possible, you can purchase wood at the store or place an online order. Choose stumps that are in good condition and have not been rotted or ruined.
Bring them to your place of business and cut them into the components you'll need for your light. We form it and cut off the angles with a bandsaw. When you're finished, put all of your wood in a safe place to dry out for a while.
Also read: How Painting can Positively affect your Mental Health
Several stages are involved in the preparation of the wood:
Rough Cleaning: To begin, scrape the mud and tree bark off the wood using a knife or metal brush. It's best if you perform it outside or in a proper location for such filthy work.
Deep Cleansing: This comes just after the rough cleaning. Blower small fragments of mud and dust from the wood with an airstream compressor to make it entirely clean.
Reglazing: As the final step in the process, apply varnish to the wooden pieces and let them dry for 24 hours.
Step 2: The Lamp Work-Preparation:
Take some Plexiglas and cut it into pieces while our wood is drying. The size of the pieces is determined by the size of the lamp you wish to construct.
Then, using hot-melt glue, adhere the cleaned and varnished wood pieces to the Plexiglas bottom. Finally, the Plexiglas work-walls pieces must be cemented together so that you have an empty box with a wooden bottom.
Tip: Choose the lamp's size based on the room in which you or someone else wishes to put it. If the room is large, make adequate lighting to lighten the space and create a unique ambiance.
Step 3: The Epoxy Resin is being poured.
At this point, we'll be working with epoxy resin exclusively.
To begin, weigh the resin and hardener separately; the ratio is 100:27. Mix the epoxy resin and hardener in one container for 15-20 minutes. To clean the mixture, strain it through a dust-collecting filter before pouring it into the ready-made workpiece.
After that, degas the item using the epoxy resin solution to remove any blisters (for approximately one hour if the room temperature is 20-24 degrees Celsius). Allow the product to harden for 2 to 3 days at a room temperature of 18 to 24 degrees Celsius after one hour of degassing.
Step 4: Putting the Work-Piece Together:
Finally, your epoxy resin wood light is almost finished. Remove the Plexiglas from the solid workpiece after two to three days of curing. Your lamp is now complete, yet it is still incomplete.
Then, using some wood, carve off the bottom. Insert an LED light the same size as the bulb into the bottom. Using a manual milling machine, cut a small concavity in the wooden bottom. The LED light will be illuminated by this concavity. Glue your LED light to the bottom of the box.
Make holes in the hardwood bottom for a cable and a soldered cable for the LED light, as well. You've got the light in your lamp now. I purchased LED lights with a voltage range of 100-240 V from a local store. A Bluetooth-enabled cell phone programmer can operate an RGB LED light.
A suggested read: Common Mistakes Artists make and how to Avoid them
The bottom of the epoxy resin workpiece must now be joined. Silicone glue can be used for this. When you're finished, make sure to let the lamp dry for at least one day.
After drying, you'll see that the lamp's surface is rough and uneven. To remove it, use sandpaper and a grinder machine to grind both surfaces of the lamp. You must be patient and begin with grit size 60, grinding for around 5 to 10 minutes.
To get better results, you must alter the grit of the sandpaper every time. So you'd start with grit size 60 and gradually advance to 120, 240, 320, 400, and 600.
The sanding process does not end here: because this is a handcrafted item, you will need to use your hands to finish it. Sand the lamp by hand with 1000 grit sandpaper, then 1500 and 2000 grit sandpaper. When grinding or sanding lamps with your hands, ensure the lamp's surface is slightly damp.
Step 4: Putting the Lamp Together:
Polishing the epoxy resin surface of the lamp with automobile headlight polishing paste is one of the final processes. Finally, use wax to chafe the lamp. Now you may hold your lamp in your hands and be pleased with the outcome.
A gentle reminder: Our initial tries will never be satisfactory, but we must not give up. We find our style after some time, but until we do, we should continuously practice.
3. Epoxy Resin Art Coasters:
Both ceramic and plastic materials can be used to make this resin art idea. Ceramic materials are typically pricey and difficult to work with if you need a large number of them. Ceramic coasters, on the other hand, are one of the most popular resin art ideas.
If you want to make a ceramic resin art piece, you can do so with the help of a mold. The ceramic substance can be shaped into whatever shape you like. You may construct a mold out of glass fragments for this resin art. They're easy to come by in both online and physical locations.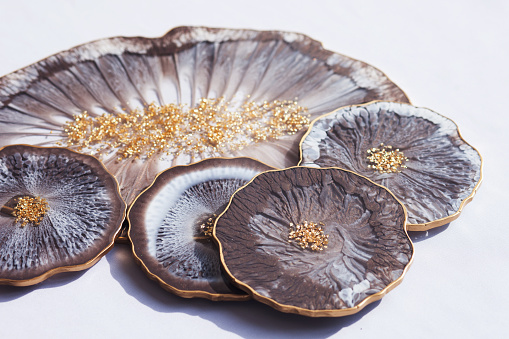 While manufacturing the coasters, you can add glitter fillings to the resin. This gives it a pleasing appearance.
So let's get started with our aesthetically pleasing resin art idea – coasters:
Step 1: Time to prepare
Preparation is usually the key to a good project when it comes to how to make epoxy resin art coasters. Always remember to operate in a well-ventilated area and to put on the appropriate safety equipment, such as gloves and a respirator. To avoid a mess, use a drop cloth or a mat to cover your work area.
When working with resin, it is always preferable to do so in a warm setting. The ideal working temperature is 72°F to 74°F (22°C to 23°C). Prepare your mold by spraying it with a mold release agent and covering the entire surface with your gloved finger or a brush.
Step 2: Resin blending and coloring
Before you begin mixing, place the resin in a basin of warm water for about 10 minutes before opening it. The quantity of bubbles in the mixture is reduced as a result of this. Take notice that doing so will lengthen the time it takes to cure and reduce the amount of time you have to work with it.
Make sure you read the directions, before mixing the resin. The amount of resin you'll need depends on the size of the mold and whether or not you'll be embedding something. The rule is to mix equal amounts of resin and hardener or a 1:1 ratio. If you require 100 ml of a mixture, for example, you will need 50 ml resin and 50 ml hardener.
Pour the contents of two tiny disposable measuring cups into a bigger cup. Take your mixing stick and thoroughly stir the contents of the cup, scraping the bottom and sides to help limit the number of bubbles. Stir the mixture for about 3 minutes, or until it seems clear.
Read more on: Epoxy Resin Art Ideas for Beginners
Step 3: Resin Coaster Making Instructions: Color Resin
It is recommended that you choose a color brand that is created to go with a specific resin when adding color to your resin. Using a different brand of color for your resin could result in different curing times and a hue that isn't what you expected.
You can now add your color once you've mixed the resin and hardener. To create a solid appearing color, you'll need to mix well depending on the effects you want. You can use a variety of colorants, including:
Color pigments,
alcohol ink, and
special resin colors
NOTE: Whatever color you choose, don't use more than 6% of your resin mixture's total volume.
Step 4: Things to Implant:
To begin, decide what you want to embed in your resin. Bottle caps and coins are typical alternatives for flat things. When utilizing a silicone mold, the next step is to decide which side of the coaster should be on top.
Making the top of the coaster the side facing you is the simplest option. As you embed the things face up, you can readily see what you're doing. Otherwise, you'll have to embed your things upside down if you choose the top of the coaster side nearest to the table. This will be the case if the mold has a rim or if the item has a tendency to float.
Read also: How to make Money as an Artist
As we go through the steps, we'll use the first example. Pour a small amount of resin into the mold first to assist keep your item in place. Next, pour a little amount of resin into a separate cup, then drop the item you wish to embed into the resin, making sure to completely coat it. When embedding your object, this helps to avoid any bubbles from surfacing.
Place your object into the thin layer of resin in your mold once it has been coated. Repeat the process for any more items you want to integrate. It's up to you to select where to put the embed or inclusion items. Apply a second layer of resin.
NOTE: Avoid moving objects around too much as this can cause bubbles to form. If any objects decide to float after more resin has been applied, you can use a stick to push them down.
Step 5: Put the Epoxy resin in:
After you've blended and added color to your resin, pour it into your coaster mold. To fill a coaster, you'll need around 1/3 of an inch. When inserting things, apply a thin layer that covers about 1/8 of an inch. After that, you add your object.
You'll need more resin to cover everything and fill the mold once your things have been placed in the resin. Pour until the resin reaches about 1/8 of an inch from the lip, so it doesn't overflow the mold.
Step 6: Remove air bubbles:
An artist torch or even a toothpick can be used to remove air bubbles. After you've poured the resin into the mold, use the flame to blow out any air bubbles. Make sure you don't leave the torch in one spot for too long; it needs to be moved around.
Step 7: Cure and cover:
After you've finished pouring your resin, set it aside to cure. The resin can be handled after around 24 hours, but it needs to cure for at least 48 hours, and in some circumstances, 72 hours, to be fully functional. It's a good idea to cover your work while it cures so that dust or other floating particles don't get on the surface.
Read: Top Social Media Platforms for Artists
Step 8: Demolding:
If the resin appears to be flexible, do not attempt to extract it from the mold. By manipulating it at this stage, you risk distorting it and ending up with a non-flat coaster. The silicone molds are usually trouble-free, and the cured resin should pop right out.
Using a mold release agent also aids in demolding and increases the mold's life. If you don't utilize the mold release, your silicone mold will age and become brittle, and it may eventually split apart.
Step 9: Polish your Epoxy resin art Coaster:
In most circumstances, when utilizing a silicone mold, the resin piece will have a glossy finish after casting. You may easily wet sand the object using fine-grain sandpaper. You might be able to skip the sanding and just apply a resin polish instead. The paint is simple to use and leaves a wonderful sheen on the nails.
You will need to wet sand the casting if it is dull or has light scratches. Because a coaster is such a small object, it is simple to do by hand. You'll need sandpaper ranging from coarse 120 grit to fine 3000-grit. A sandpaper holder will come in handy since you'll be doing this by hand. Consider using an electric sander and polisher for larger work.
You'll need some water in a spray bottle or a squirt container. Water is required for this procedure because of the heat generated by sanding, as well as the fact that it removes any dust or dirt particles. Some folks wet the sandpaper, while others wet the thing they're sanding. Working in circular motions, you progress from coarse to finer sandpaper, each time using water and wiping the surface clean.
After you've completed sanding, make sure the surface is flat and that all traces of water have been removed. After that, you can start polishing your resin casting.
Consider the following factors for the best and clearest surface:
What kind of polish should I use?
What kind of cloth should I use?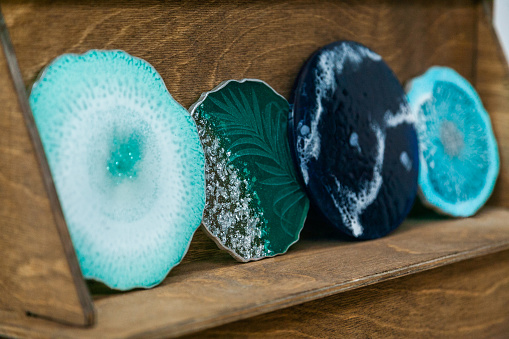 Now build your creator website and mobile app in under 5 minutes on GoSocial without coding. Click to start for free.
Conclusion: 
This ends our blog on "resin art ideas for beginners". I hope you enjoyed it.

And before we end this, let me tell you about our community building platform – GoSocial. At GoSocial you can host your own workshops, join communities of your interests and interact with hundreds of creators like you. So, what are you waiting for? Click here to visit GoSocial.