Brides are increasingly interested in boudoir sessions (or boudoir photography/boudoir shoots). It's not just a thoughtful gift to give your soon-to-be spouse on your wedding day, but it's also a place where you can feel comfortable in your flesh.
It's a chance for all women to feel proud, confident, and seductive. It's also a great way to pamper yourself in between all of the stress that wedding and honeymoon planning may bring. The greatest way to start your wedding day is to feel relaxed and lovely.
Now build your creator website and mobile app in under 5 minutes on GoSocial without coding. Click to start for free.
Boudoir photography is a type of intimate professional photography that emphasizes one's body's contours and beauty. The intimacy of this kind of photography is inspired by boudoir, which is French for a woman's private dressing room.
Boudoir photography/boudoir shoots can be a fun addition to your web photography portfolio, whether you're a seasoned shooter or a beginner photographer. Boudoir photo shoots can help you enhance your portrait photography abilities while also showcasing your take on a popular photography style.
Also Read: Creative Photography - Tips & Tricks
Take a deep dive into our boudoir photography for beginners guide for inspiration, methods, and suggestions if you're wondering how to take your boudoir photography or do a boudoir shoot for a client.
Boudoir Photography – What is it?
Boudoir photography dates from the 1940s and has remained popular since then. The nudity in this genre of photography is typically hinted at rather than exhibited, giving it a fun, provocative feel.
You're portraying your subject in a sensual, intimate way when you shoot boudoir photos. Taking great boudoir shots necessitates careful consideration of your subject's form, attire, and personality.
The goal of boudoir photography is to capture and highlight the subject's inherent attractiveness and proportions in an idealized form. It might be anything from a naked girl in a lovely bikini top to a fully clothed woman in a sexy or suggestive stance.
Also read: Low Light Photography Tips & Tricks
When the subject is at ease and confident in their skin, they are at their most attractive and naturally stunning.
To know more about Boudoir photos from experienced photographers, visit GoSocial. Here, you'll find communities within your niche where you can learn and grow together. Not just that, you can also host or be a part of many workshops and webinars of your choice.
Is it a good idea to do a Boudoir shoot for my partner?
A boudoir session is a unique and amusing gift for your significant other. It's more than just a way to show off gorgeous images. It's expressing, "I am confident, and I will be completely myself."
Most brides are hesitant and uncomfortable in boudoir photoshoots because it is a new experience for them. That's why you should look for a boudoir photographer who can put you at ease (a glass of champagne won't harm either).
Read Also: Portrait Photography Tips You Must Know As A Photographer
Boudoir Photography – Tips & Tricks
We need a form of photography that celebrates the shape of the model's body without objectifying them, which is what boudoir photography is all about.
Boudoir photography has an element of empowerment, which is why women, rather than their spouses, are more likely to seek out and pay for this style of photoshoot.
Clients can have a boudoir photoshoot done as a personal remembrance, to commemorate an anniversary, or as a fun wedding gift for their future partner. Couples boudoir photography, maternity boudoir photography, plus size boudoir photography are all possibilities.
To create timeless boudoir photos that your clients will appreciate, you'll need to choose the correct camera gear, location, and positions, regardless of the client type.
Here are the top 8 boudoir photography tips and tricks for all you boudoir photographers that will help you get amazing boudoir photos:
1. Before her boudoir photography, get to know each customer:
Get to know each client by sending them a questionnaire series in the weeks leading up to the boudoir photo session. Before the boudoir photography session, set up a Zoom call with your client or invite them into your studio for a comfortable face-to-face meeting.
To have a deeper understanding of your client, ask the following five questions:
What images have the greatest impact on you?
Are there any insecurities or "problem spots" in your boudoir photos that you'd like to avoid?
Do you have any physical restrictions that would make it difficult for you to achieve specific boudoir photo poses?
What is it about yourself and your appearance that you adore?
What is your dream self-portrait that we might capture in photographs?
A must read: Adorable Poses For Couples
2. The ideal lens:
The most crucial thing is to flatter your subject; nevertheless, photographing them too close or with a wide lens can deform them. A prime lens with a focal length of 50-100mm and a wide maximum aperture, such as f/1.8, is perfect. Use a zoom lens with a large maximum aperture, such as f/2.8.
Take advantage of a DSLR with a mirrorless interchangeable lens if you desire a large viewfinder and the depth of field in the viewfinder is limited. You will benefit from this method because it is more convenient for you.
It's also a good option if you want to experiment with macro lenses.
3. Explanation for each pose:
Clearly describe each stance and pose to your client, and don't be scared to show it off!
Talking with your client during the posing process will help put them at ease. Make sure to congratulate your client as well, so they know they're doing a fantastic job.
For instance, you can utilize the lines below to conduct a conversation with your client regarding their boudoir photo shoot.
"So, what would you think if I put you in this situation? Is it to your liking? Do you think it's a good fit for you? Please let me know your thoughts."
"You look fantastic in that outfit!"
"That appears to be a fantastic view of your bosom. How are you finding the job?"
Recommended read: Best Indoor Photography Ideas
4. The light from the window:
Window light is great for this type of boudoir photography session since it is soft, flattering, and inexpensive, and it floods the body softly and evenly. You can position the window in front, to the side, or behind your subject by moving them around.
If the window light is insufficient, you can use a constant LED lighting system like the Rotolight AEOS to augment it.
You might use the dialogue below to get a sense of your client's thoughts and feelings about the new circumstance:
"How does this make you feel? Do you feel more at ease or comfortable this way? Do you have any complaints about this position? Can you determine if we're in the right place?"
"Why don't you try out this position and see how you like it? Are you able to locate the spot?"
You should keep in mind that if the light is reflected on the camera lens, the exposure may be somewhat off to the side.
The image on the monitor will be somewhat skewed as a result of this, which isn't always a bad thing. If you're working in a dark environment, you might need to hang a reflector from the ceiling to bounce some light back onto the subject.
Remember that there are a variety of boudoir photo styles to choose from, and there is no right or wrong answer. If your client doesn't mind, keep testing and experimenting with your light until you find something that works for both of you.
5. Wardrobe alternatives:
Request your model to bring a few clothes — they don't have to all be underwear.
Remember, the goal of boudoir photography is to create an enticing atmosphere rather than to expose the most skin.
You'll get some interesting images as long as she's comfy in her attire. In case she is not, you can always communicate and ask her to dress up according to her comfort.
Read also: Learn How To Shoot In Low Light - Low Light Photography
6. Maintain a relaxed atmosphere for your subject:
Maintain a comfortable environment for your model by keeping the room warm and offering soft pillows and furnishings.
At the same time, keep in mind that two persons shooting – especially if using lights – will quickly heat the area, so don't overheat it! Also, keep a dressing gown on when they need to relax.
As the boudoir photoshoot goes, you may notice that the model is at ease in a variety of situations and that the subject is unconcerned with being taken from various angles. If this is the case, you might want to try offering a wide range of job opportunities.
As soon as the model is at ease, try to arrange the subject so that the light is coming from the side. When the subject is turned away from the light source, the image on the monitor will look drastically different.
Because a light source casts shadows and highlights on the subject, this is necessary.
When you're taking a photograph, try to keep the light as even as possible. This will give the person a more natural appearance and highlight their features.
Read: Couple Photograhy Pose & Tips
7. Make a list of probable poses:
Make a mood board with your partner before the shoot so that you both know what to expect and can practice positions. Encourage your model during the shoot by telling her how beautiful she looks, giving her clear directions and posing ideas, and showing her the photos on the back of the camera as the project progresses.
You can keep the subject engaged and relaxed by making a list of poses.
Poses that you can make on the spot are the greatest to choose. If you're taking a portrait, for example, you should use a backdrop. However, if you want to take a group photograph, you can do so on the floor or a bed.
Also Read: Portrait Photography Tips & Tricks
Your poses should be as close to the camera as feasible. It's best not to shift the subject to achieve a specific stance because it would appear unnatural.
You can also use music to create distinct moods. You might inquire about the model's favorite songs that make her feel brave and confident. Soft music can also be used to bring out cute candids.
8. Describe how you plan to photograph them:
Explain how you plan to photograph them: do you prefer posed, candid, or action shots? You could even photograph them in their lingerie if they are comfortable.
While a frank approach is appealing, don't overlook conventional postures, which are timeless and look excellent in a home setting.
Most boudoir photographers prefer to take action. They prefer that their client be moving and able to convey a story so that they can get the most out of the positions.
Boudoir Photography Session Rates:
Most photographers charge by the shooting hour when it comes to boudoir photography price. The typical hourly rate might range from $100 to $250. At the very least, budget for a two-to-three-hour boudoir photoshoot, as well as time to process the boudoir photos.
Another approach is to offer clients multiple packages that are tier-based. On the low end, you may charge $500 for two hours of boudoir photo shooting plus all processing and retouching. You can also include information on the types of photographs you'll supply, such as a mix of broad and close-up shots.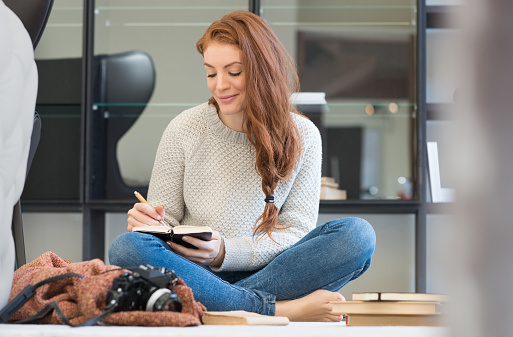 On the high end, you may charge $1000 for four hours of shooting including all post-production and retouching. You may even offer a boudoir photo book with the finest images, which is a terrific alternative for clients who want to give the boudoir portraits as a present.
Also read: Careers Every Photographer Should Consider
Boudoir Shoot Photography Poses
It's a good idea to have a set of three to five boudoir photo poses that you know will work with the majority of your clients. Having a variety of go-to boudoir photo poses on hand will ensure that you never run out of ideas during a shoot.
1. From the side:
Position your subject such that the side of her body is visible. You'll be able to keep the portrait focused on her eyes if you shoot her from the side.
The side posture will allow you to see the curves more clearly. You can have your model stand in front of a window with the curtains drawn to capture her silhouette, or you can approach her from the side to get a nice view of her blossoms.
2. Ask her to lay down:
If she's lying down, she'll be more at ease. You can have your model stand up or lie down on her back on the bed. A bed prop, such as a duvet or a quilt, can also be used to make a more intriguing photo.
Position yourself at the client's forehead and shoot down the body when performing this pose. The chin must be raised toward the camera in this stance. This helps to define the client's face and keeps the chin from slipping into the neck.
3. Blossom Portrait:
A great boudoir photography position is a great 'portrait' that includes both the face and the chest. For a more relaxed mood, dress your client in an off-the-shoulder sweater.
Add a choker-style necklace or maybe a harness to this outfit if your customer is more edgy. You can even advise your customer to wear a corset top, which will show off her breasts beautifully.
A suggested read: Pre-Wedding Photography – Most Sensual Couple Photography
If you're photographing suggested nudity, have your subject cover their breast with a sheet or blanket for a wonderful 'nude' shot that doesn't disclose too much!
Now build your creator website and mobile app in under 5 minutes on GoSocial without coding. Click to start for free.
Conclusion:
This wraps up our blog on boudoir photography. I hope you and your client enjoy your boudoir photoshoot.
And by the way, before we wrap it up, I'd like to tell you guys that we, at GoSocial, help you host your workshops based on your interests. Not just that, GoSocial also lets you join numerous communities where you can get along with many like-minded creators like you in different niches. To know more visit GoSocial or click here.